November 21, 2017
Best wishes for the approaching Thanksgiving holiday. A time to pause, have a good meal in good company, and say thanks for the good that has come to us.
If you have time to read during or after the holidays, let me recommend a superb book about the first settlers in America who invented Thanksgiving. Mayflower: A Story of Courage, Community, and War by an excellent history writer Nathaniel Philbrick. You can buy it as a regular book, or on Kindle, but I greatly enjoyed listening to its complete recording from Audible.com
On to the markets: I always remind my students to check the earnings dates for any stock they're planning to trade and not to enter trades the day before their earnings announcements. There are many sites where you can find those dates, I usually go to Finviz.com. On weekends during the earnings season I check all my open positions against the earnings calendar and close out swing trades whose announcements are due during the coming week.
In my October letter to you I shared an open short trade. Last Monday, while running a Traders' Camp in the Dominican Republic, I took profits on that position, in front of the group. The next day the earnings were strong, and the stock rallied. A good practical lesson for all.
Click here to enlarge this chart (only when you're online)
Education
Online: December 6 & 13 at 6pm ET - Webinar - "Current markets with Dr Elder."
Enter Dr. Elder's trading room from your own computer and watch him review stocks and futures. Send your picks to him and ask him to review them. An ongoing bonus for all webinar participants – receive an email each weekend giving you the results of bullish and bearish scans of the S&P500. Click HERE for a complete description.
Intensive class in Holland, January 13, 2018
Get ready for the new challenges and opportunities of the new year. We'll review psychological rules and technical methods that are working well and apply them to the current markets. We'll combine the essentials of the old and the new to hit the road running in 2018. Click HERE for a complete description.
Special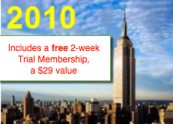 2010 SpikeTrade Reunion Presentation recordings
There were 20 presentations at the 2010 Reunion, and we have selected the top 11 videos plus an added bonus video. This selection was based on Reunion participants' feedback.
Cost: only $33 until the end of November.
To read the complete description and to order please click HERE.